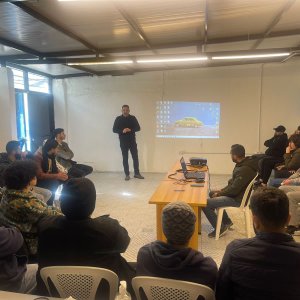 "Hariri Foundation" launched at its center in the Taamir Ain al-Hilweh Free vocational training courses for youth
The Hariri Foundation for Sustainable Human Development, in its center in Taamir Ain al-Hilweh-Saida, has launched "Free training sessions on " Repair and maintenance of cellular phones ", coordinated by the Director of the Centre, Tarik Abu Zainab, and the Director of Vocational Training at Maaden al-Sharif.
These courses were launched with the participation of 30 trainees from Taamir area and its suburbs, and led by a specialized trainer in the maintenance and repair, Mr. Mustafa Hijazi.
The sessions opened with a speech from Abu Zainab welcoming the trainees, conveying greetings from the Hariri Foundation President, Ms. Bahia Hariri, who said "This center is a meeting space for all with the aim of developing the capacities and skills of young people under the guidance of the President of the Foundation, Ms. Bahia Hariri. The vocational training is part of the Centre's programme, which includes vocational training courses, cultural, health and social seminars, and our goal of standing next to our people in the area."
Ms. Maaden Al-Sharif also stated that these courses are part of the vocational training programmes in the institution and are aimed at young people with a view to developing their skills and enabling them to have productive and required occupations in the labor market, thereby improving their situation, and wishing the trainees success.
The courses include theoretical and practical training in the maintenance and repair of cell phones and smart phones of various kinds. Participants at their conclusion receive participation certificates from the Hariri Foundation.